Course program
This is what you will discover in the Astral Travel course:
You'll improve your understanding of the realms and dimensions that human beings experience

You will expand your knowledge of reality itself, as well as your perception of your personal boundaries
You will be able to freely explore your consciousness (which exists outside the body) in unlimited space and higher dimensions
With safe exercises, audio, sound accompaniment and the support of Selfica equipment, the feeling deepens at each level of this course/journey, which you can later expand and deepen with subsequent two levels if you wish, but already in the basic level the techniques of leaving the body are taught and how to practice them safely.
You'll be amazed at how natural it feels to experience the sublime sensation of your true essence.
The course will be held online and you can follow it from the comfort of your home, we recommend that you prepare a quiet environment, possibly without the presence of other people and animals, which are often sensitive and disturbed by the energies of the astral plane, better if the environment in which you are can be darkened with simple curtains or blinds.
Course schedule: 10am-12:20pm and 2:30pm-5pm CET (Rome time)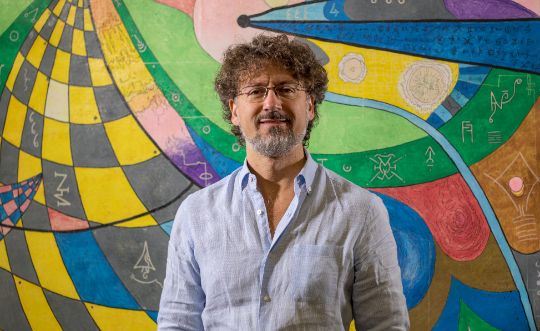 Crotalo Sesamo
Alessandro Zattoni was born in Turin on January 16, 1970.
He graduated as a computer expert in 1988 and the following year he began to deepen his studies in the field of natural medicines and borderline sciences.
In 1989 he moved to the Damanhur Community Federation in Piedmont.
Alessandro takes the spiritual name of Crotalo Sesamo and becomes a direct pupil of Oberto Airaudi - Falco.

Soon he becomes the director of the Damanhur Center in Turin in the years 1990/1995 and in 1996 he creates and becomes CEO of the Olami Damanhur University that deals with creating and organizing visits, courses and programs related to the research of Damanhur, bringing it to become the most important company of the Federation, until 2010.

She deepens her study in the fields of spiritual healing, ancient civilizations and inner research, specializing in the teaching of Astral Travel, Previous Lives, Inner Harmonization and Selfica Healing.
He has taught throughout Europe, the United States, Canada, South America, Australia, UAE and Africa and Asia.
In 2016, he was invited to speak at the UN on "World Happiness Day" as Damanhur's Ambassador.
Before the untimely death of Founder Oberto Airaudi - Falco, he is being trained by him to continue the alchemical art of "selfic painting".

Sign up now
Last 7 available places
astral travel


Course
1° level price


300,00€

217,00€

If you have any questions contact us, we are at your disposal

+393282277745